Hey guys I have a big sale going with lots of specials.
Please email me at tunerchick@aol.com or pm me and I can invoice you.
All packages where you would buy all in the picture include free shipping.
All other orders shipping is $2 for 1-2 items and $3 for all others no matter how many items.
Check my great feedback on makeupgeek forum.
packages will all have tracking and tracking will be emailed same day item is shipped:)
Thanks guys
lipsticks left to right
mac pink cabana (f) (swatched once)$8
mac pro charred red
***SOLD***
mac barely lit (BN LE)$14
mac gilty kiss (swatched once LE) $10
mac speak louder
***SOLD***
mac girl sabout town
***SOLD***
mac fresh buzz (swatched 2x)$8
mac on hold
***SOLD****
estee lauder all day classic nude (lightly swatched once)$8
****SOLD*****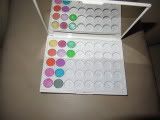 yaby palette with 12 yaby eyeshadows $30
palette has mirror and 40 slots.
colors from top to bottom rows
first row left to right pp029, es492, pp011
second row es491, pp017, es160
third row es642, es631
fourth row es061, es382
fifth row pp005, es093
ysl 30 years of beauty limited edition eyeshadow palette in couleurs d'afrique
comes with box sleeve and wand (swatched lightly once)
$15
josie maran products left to right
fingerpaints in lovely (swatched once) $12
cream bronzer in beach 1 (swatched once) $12
top row left to right
mac mi lady
***SOLD***
mac family silver
***SOLD****
mac play on plums
***SOLD***
mac pink split
***SOLD****
bottom row left to right
mac fresh green mix (LE swatched 2x) $14
mac danger zone
***SOLD***
left to right
mac richmetal highlighter in female
***SOLD****
mac rare and refined richmetal highlighter very rare (swatched 2x) $11
***SOLD***
liners
top row left to right
all mac liners sold
mac iris eyes
****SOLD***
coastal scents maroon
****SOLD****
coastal scents deep plum
***SOLD****
coastal scents white (swatched once) $3
pigments
mac marine ultra
***SOLD***
mac lovely lily (brand new) $14
mac chartreuse
***SOLD***
nars palettes left to right
carvaggio
***SOLD***
persepolis (swatched once) $20
cleo (swatched once) $20
lashes top to bottom
lashes in 35 (brand new) $8
hello kitty lash
***SOLD***
smolder eye kohl
***SOLD***
stripdown lip pencil (brand new) $8
sublime culture cremestick liner (swatched 2x) $8
fly by blu pearlglide eye liner
***SOLD***
fab orchid/dash lily dual edge eye pencil (swatched once) $10
engraved powerpoint eye pencil (swatched 2x) $8
pink couture shadestick (swatched 2x) $12
electrolady liquidlast liner (brand new) $12
***SOLD***
ts13 cherry, cool blue, hot pink
***SOLD***
ts17 frosted flake, slate, iced mocha
***SOLD***
ts01 white, gray, black
***SOLD***
single eyeshdows left to right
es11 iced mocha swatched once $2
es09 deep bronze swatched once $2
es27 white pearl swatched once $2
eyeshadows
top to bottom first row left to right,
estee lauder 03 pink quartx eyeshadow(swatched once) $7
clinique eyeshadow in 291 clementine (swatched once) $7
estee lauder eyeshadow in 05 cherry (swatched once) $7
second row
too faced eyeshadows $9 each (swatched once) in
heiress,
vixen
***SOLD***
little black dress
(all swatched 1-2 times)
third row
urban decay eyeshadow in jones $9(swatched once)
makeup stores eyeshadow in ginger leaf $5(swatched once)
first row left to right
stila eyeshadow palette (LE) with flower
***SOLD****
stila starlet palette in the pastel look (LE brand new) $12
second row left to right
stila precious eye shadow palette
***SOLD***
stila duo eyeshadow in lily (swatched once) $5
mac phosphur nailpolish
(brand new) super hard to find rare $10
random
top
black lipstick in fantasy makers (brand new) $1
left to right
jessica simpson desert treats lipgloss in banana split
***SOLD***
victorias secret sweet talk lipgloss in wild berries
**SOLD***
vs beauty rush lipgloss in light pink (brand new) $2
vs beauty rush lipgloss in juiced berry (brand new) $2
vs shadow in jet set $2
vs shadow in plum passion (brand new) $3
vs shadow in bronze ambition $2
vs shadow in money baby (brand new) $3
vs shadow in blutopia $2
loreal lipcolor in plum pactful (brand new) $3
loreal lipcolor in bountiful berry (swatched once) $2
loreal linear intense copperbrown cougar (swatched once) $2
wet n wild light pink lip pencil (brand new) $1
jordana eye pencil in bleutiful
***SOLD**
styli style glitter lid liner black (brand new) $2
jordana color extend eye liner in spring green
***SOLD***
styli style glitter lid liner silver (brand new) $2
vs lip liner in 22 metallica (swatched once) $1
eyeshadow palettes top left to right all for $18
loreal sheer brights LE in hyper green (swatched once) $5
maybelline eye quad in rock and black (brand new) $5
loreal LE quad in celebration of strength $5
bottom left to right
revlon cream shadow in moonlight jewels (LE good base swatched once) $5
prestige shadow in ballet (swatched once)$2
loreal hip duos
***SOLD***
top row left to right all for $17
lola lipgloss set (BNIB) $5
makeup store lipstick in delight (swatched once)$4
makeup store lipstick in summer (swatched once)$4
clinique perfect beige (swatched 2x) $5
bottom lancome juicy tubes lipgloss in beach plum (BN)$3
top pencils top to bottom
stila lipglaze stick in ginger bread (ib swatched once)$5
stila mini lipglaze in brown sugar (BN)$3
left to right
mac colour forms cool lips set (LE) (BNIB)$20
makeup store duo creme blush in glow (swatched 2x)$8
mac hello kitty pink fish lip conditioner
***SOLD****
top left to right
bobbi brown longwear cream shadow in bellini (swatched 2x)$10
beaute liquigel stain in flouron (BNIB) as seen on many celebs$20
bottom
urban decay liquid liner in perversion
***SOLD****
earrings left to right
black and silver hoops
***SOLD***
guess earrings $8
china glaze
**SOLD**